Still me, Francesco, the Master of the Archives Universe. My experience as Archives Assistant is over, and it is time to sum up! The Westminster Graduate Programme was surely a wonderful idea and from reading the last two blogposts (one and two) it is easily noticeable I have been involved with so many activities and I learned a lot! I have developed new skills, sharpened my mind, enhanced my knowledge, freed my imagination. Last but not least, I built important human relationships and consequently, now my network is very cool!
I started this job as a fresh graduate in Software Engineering looking for some opportunities to taste an office job and interested in the Archives after a previous experience in a musical archive in Italy. While I was considering how this experience could have enriched my background for a future Software Engineering job, I rediscovered a deep love for history and humanities in general. As I briefly mentioned in my previous post, we live in an era where technology and humanities coexist on daily basis, therefore a graduate in technological sciences can be fascinated by history and a graduate in history could be charmed by programming languages or digital skills. A wide variety of choices for new generations!
My Cupid for history have been my colleagues Anna and Claire. Everything happened effortlessly as I was just a sort of spectator of lectures, meetings, conferences and research.  I keep Quintin Hogg and the Regent Street Cinema with my warmest memories.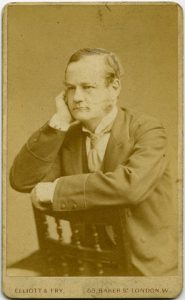 Quintin Hogg, seen here in a portrait photograph by renowned studio Elliot & Fry. In the early 1940s the studio was bombed and most of the early negatives were destroyed. Shortly after the firm's Centenary in 1963 it was taken over by and amalgamated with Bassano & Vandyk. The National Portrait Gallery owns all the surviving negatives. (AM)
Here, at University of Westminster everything spins around the figure of its legendary founder Quintin Hogg. Quintin Hogg was born in London from a wealthy family on 14 February 1845.  He was a remarkable sportsman, a very religious person as a firm believer in Muscular Christianity who sustained that providing structures for sport, intellectual and spiritual needs could have kept people honest and moral. Hogg was a real protagonist of the Educational Reform in London and starting from the Young Men's Christian Institute in 1873 it is very interesting to have a look at the journey which led to the birth of the University of Westminster. I highly recommend reading my colleagues posts about Quintin Hogg and his philanthropist life.
The Regent Street Cinema – then known as the Large Hall – as it is believed to have looked at the time of the Lumière brothers' Cinématographe demonstration in 1896. The room has been a magic lantern theatre for the Royal Polytechnic Institution. Quintin Hogg adapted it to hold bible study classes. (AM)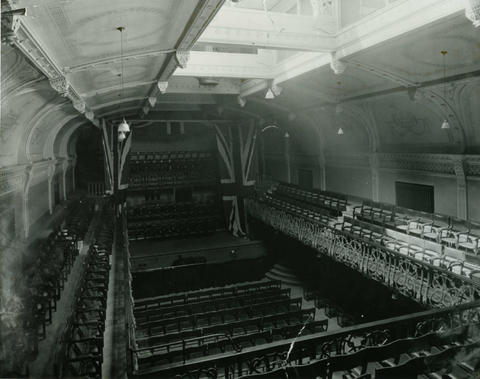 At 309 Regent Street, in Central London, there is a cinema but not a common one. In fact, on Friday 21 February 1896 a small audience observed and witnessed the birth of British Cinema through a new invention: the Lumière brothers' Cinématographe. The theatre opened in 1838 to promote new scientific discoveries and it was designed for optical demonstrations and illustrated scientific lectures. Quintin Hogg bought the 309 Regent Street building, theatre included, in 1881, and made architectural changes for education and sport purposes. Quintin Hogg himself defined the Lumière brothers' Cinématographe as "the most wonderful invention". What is surprising to me but at the same time understandable, considering those times, is that the Lumière brothers did not spot the enormous potential of their invention and they never thought of the possibility to make money from it. On the contrary, Alfred West with his "Our Army" and "Our Navy" films managed the theatre for fourteen years. Regent Street Cinema became a permanent cinema and a West End landmark in 1920. During the following years the cinema was theatre of several kinds of films. In 1980 the theatre closed and became a lecture theatre. The University of Westminster restored the theatre to its former glory in 2009 and it is again a beautiful and working public cinema with a remarkable historical importance.
Last paragraphs were just a quick glimpse of the many stories you can hear while working in a cultural environment like a University Archive. I described all the tasks of my job throughout this blog; however I could summarise my journey saying that the importance of culture in our life is incommensurable as it allows us to recognise beauty, understand our times and keep our brains healthy and young. I am grateful towards the University of Westminster and the Archives and Records department for these three months of highly formative work and for enriching my experience with strong values and great memories.
Thanks,
Francesco Murtas
Nov 2022
Line Manager's postscript:
This blog post was sent to us by Francesco after he completed his placement with us so we have chosen the images on his behalf. Francesco's enthusiasm for the heritage of the University really comes through in his blogposts and we're delighted to have been able to evidence that archives aren't just for humanities graduates.
Anna McNally
Dec 2022
University of Westminster 309 Regent Street, London W1B 2UW General enquiries: +44 (0)20 7911 5000 Course enquiries: +44 (0)20 7915 5511 The University of Westminster is a charity and a company limited by guarantee. Registration number: 977818 England