On 19th May 1906 the Quintin Hogg Memorial Sports Ground was officially opened with a ceremony and fête.  The event was such a success that a Garden Party at Chiswick became an annual feature in the Polytechnic calendar with the first being held on 8th June 1907. 
The Garden Parties were open to all members of the Poly, their families and friends. They featured a variety of sporting events, including displays by the ladies and gents gymnastics clubs, exhibition bouts by the Boxing, Fencing and Wrestling Clubs, and athletics competitions by the Ladies and Gents Athletics Clubs. 
They also included more light-hearted entertainment for everyone such as a push-ball match, costume race, ladies vs gents cricket, ladies vs gents basketball, potato race, tug of war, and races for children.  The Poly Military Band was on hand to provide music for dancing.  Attendance at the second Garden Party was recorded at over 1,000 people and in 1932 it was estimated at 7,000 people. 
During the First World War the Garden Party ceased.  However, in 1919 it was reintroduced with a special Garden Party and Welcome Home. The President of the Poly, JEK Studd, received all the demobilised Poly Boys at the Party and tributes were paid to those who had fought.  
By the late 1920s, the Garden Fête, as it was now called, was a grand affair from 3.30pm until 9.45pm.  In addition to the Club displays, donkey rides, swings and a mat slide were provided for children and there was even a celebrated palmist, Madame Xenia, in attendance. Each Poly sports club organised a 'Fun at the Fair' stand and the evening finished with Dancing on the Green accompanied by the Band of the Metropolitan Police T Division.  Entrance was the cost of a programme – threepence.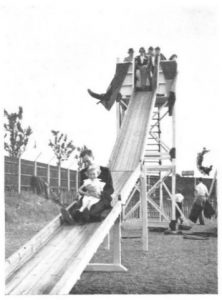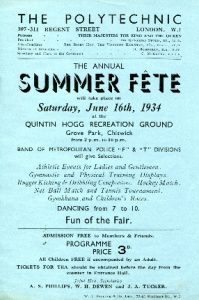 In 1933 the event was renamed the Summer Fête.  In 1937, George VI became King and the Fête became a Coronation Fête.  According to reports in the Polytechnic Magazine, it was a perfect summer's day with the most popular events being the keep fit demonstration and the skipping display by the Ladies Gymnastic Class.  
Once again, war put a halt to the Summer Fête and it ran for the last time in 1939.  During the war the council and later the Army used the ground.  Chiswick sustained substantial bomb damage during the Second World War, including damage to the Ladies Pavilion and Boathouse.  
In 1953 a special effort was made to revive the Fête, once again in the form of a Coronation Fête, celebrating the coronation of HM The Queen. The event, which was the last until the present day, took place on a warm and sunny 27th June with 1,500 people in attendance.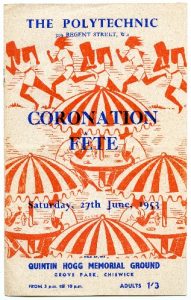 University Records and Archives, June 2019
University of Westminster 309 Regent Street, London W1B 2UW General enquiries: +44 (0)20 7911 5000 Course enquiries: +44 (0)20 7915 5511 The University of Westminster is a charity and a company limited by guarantee. Registration number: 977818 England